Jewish Educational Media was founded in 1980 as a not-for-profit organization. Our purpose was to broadcast, live via satellite, the
public addresses of the Rebbe, Rabbi Menachem Mendel Schneerson,
of righteous memory.


Today, we operate a broadcast-quality production house with a full-time staff of researchers, producers and video editors. Their primary goal is to render our priceless archival materials accessible, making them meaningful to diverse audiences around the world.

As a result of JEM's embrace of technology, our archive now contains thousands of hours of video, film, and audio recordings. Once preserved, these invaluable moving images and sounds will be utilized for inspiration, research and study for today and for future generations.


A selection of topics covered in The Living Archive
(pdf)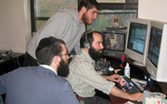 Today, JEM operates an audio-visual archive, production facility and resource center in Brooklyn, New York.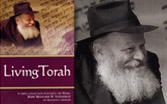 Cover of JEMís flagship product, the Living Torah video collection.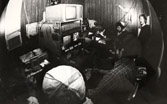 The control room at JEM's first intercontinental satellite broadcast, 1980.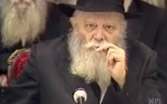 The Rebbe gestures to a JEM cameraman to join the moment and say ďLíchaimĒ